More about Tangen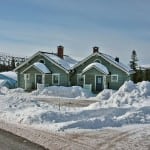 The house in Tangen is an exclusive mountain cabin located in one of Sälen's most attractive areas, Nya Sälfjällstangen. Become dazzled by the beautiful view with Högfjällshotellet (The High mountain hotel) and Sälen's mountain church. In addition, the south-west facing terrace is perfect for sunbathing. The Nordic Alps with cross-country trails and rutted paths lie right by the porch. There is about a 400 meter glide or walking distance to the transport lift that will take you to the lift systems in Lindvallen and Högfjällshotellet. The surroundings are well suited for children's games and excursions, for example snowman making. Restaurants, swimming pool, shops, ICA, ski rental, etc, are just a kilometer away.
About the cottage and apartments in Tangen
Each of the two mirrored apartments in the house has  130 square meters of living space and 8 + 2 beds. The apartments are characterized by genuine craftsmanship in old-fashioned Dalecarlia style. The toilets and bathrooms have tiled walls and tiled floors with floor heating. The equipment standard is high as each apartment has a fridge and freezer, stove with oven, microwave, dishwasher, 2 cable TVs, shower, sauna, 2 toilets, drying cabinet, fireplace with wood, socket for engine heater, internet etc. Smoking is prohibited in both apartments. In addition, apartment B is pet-free.
The apartments have one bedroom with a bunk bed, two bedrooms with a double bed and a sleeping loft with a double bed and sofa bed. There is also a living room with dining area, corner sofa, fireplace and TV. The sleeping loft also has a TV. The cozy  porch has a southwest orientation.
Smoking is prohibited in all apartments in our buildings, both in Gruven and Tangen.
Since autumn 2022, there are two charging posts for electric cars at the cottage in Tangen.
Overview:
Two apartments with 10 beds in a timber-framed cottage located in Nya Sälfjällstangen between Lindvallen and Högfjällshotellet.
Interior:
fridge
freezer
stove with oven
microwave oven
dishwasher
fireplace with wood
2 cable TV
free wi-fi
shower
2 toilets (tiled walls and tiled floor)
sauna
drying cabinet
engine heater outlet
charging post for electric car
porch
barbecue
In the area:
Cross-country skiing and hiking trail (100 m)
Bus stop (1 km) (Free lift bus)
Högfjällshotellet (2 km):
Slalom course,
Dog sledding
Snowmobile driving
Restaurants
Business (Ica)
Sälen's village (10 km):
Pharmacy,
Bank (SHB), Bank (Swedbank)
Systembolaget (liquor store)
Canoe rental and Beaver safari
Bathing places
Fishing
In Lindvallen (4 km):
Bicycle rental
Swimming pool
Golf: (13 km)
Airport (20 km)
Floor plans:
Upstairs
Entrance floor
Basement floor
Overview map of the mountains in Sälen * Google map of Tangen * Eniro Map/directions